The Victor Sprite 300 Rotary Machine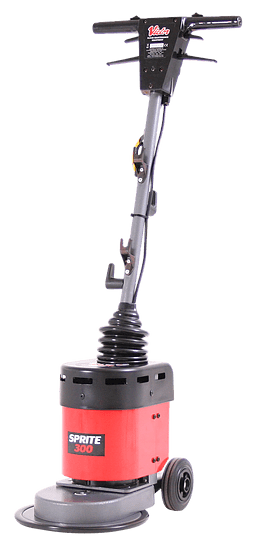 Attaining all the recognised attributes as part of the Victor Rotary family, it is extremely hard wearing, reliable and simple to maintain and service in it's small but powerful frame.
A small, compact floor buffer that offers ultimate cleaning performance and versatility in a convenient size for use where other conventional rotary machines are too large. The 300mm cleaning width makes the Sprite 300 perfect for cleaning small areas such as toilets, kitchens and small shops.
While at 240rpm can produce a shine and is effective when used with the correct pad for spray cleaning.
The fold over handle offers practical storage and transportation benefits. With a brush hook on the handle it provides convenient storage for a brush or drive board.
A tank and scrubbing brush can be added for harder scrubbing or stripping tasks.
There are a full range of accessories available including tanks and a variety of brushes: polypropylene for scrubbing, gumati brushes for polishing and shampoo brushes for carpets.