The Victor FSX Freestyle Burnisher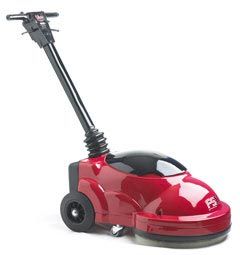 Impressively designed and dramatically different in its appearance, the FSX offers two hours of continual operating time, with a unique on-board battery charger and lead.
With a recharge time of only six hours, the machine uses high technology gel batteries to ensure no leakage and complete safety for the user. This also allows the machine to be tilted onto its large rear wheels for transportation or to change the cleaning pad.
The FSX also has an easy to read battery charge level indicator so that you know how much power the battery has to left. This will aid when planning your cleaning schedule, ensuring the machine has enough power to complete each task.
Aesthetically, the FSX burnisher is a major step forward when compared to most other cleaning machines used in similar areas.
The main body of the Victor FSX is manufactured from high impact ABS, ensuring it is robust and easy to clean, maintaining its pleasing appearance. All the necessary leads and equipment are stored on board to keep the machine compact.
Operating at 1,500rpm, the Freestyle has a 17 inch drive board that articulates the contours of the floor to give an improved and more reliable performance, whilst the fold down handle allows easy storage. As the FSX can be used in areas that are in constant use, it also has an isolation key that disables the machine to prevent the machine being tampered with or used by untrained operatives.
The machine is designed to allow service and maintenance with the least amount of downtime. Each battery lasts between twelve and 24 months, depending on the usage and servicing programmes deployed.
Victor is widely regarded as leading the marketplace in terms of quality, performance and reliability. All of the machines are manufactured in the UK to internationally recognised standards and comply with the latest EU industry directives.