Nilfisk VHW 321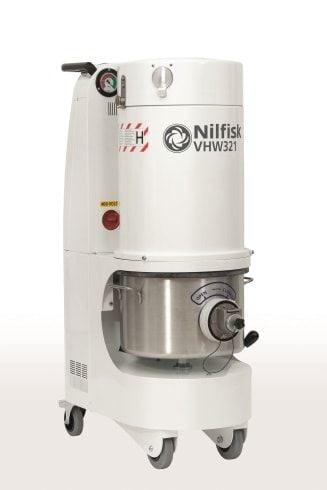 The VHW 321 is the mobile vacuum cleaner that meets GMP requirements in terms of hygiene, cleanliness and safety.
Thanks to its innovative and smooth design, the VHW 321 is free of crevices where contaminants or residual materials can accumulate, as the surface is easy to clean after use. The M class cartridge filter ensures high filtration efficiency and the innovative PullClean system makes it possible to clean the filter whilst the vacuum is running, without stopping. The H-class certified vac allows the safe replacement of the absolute filter (Bag In-Bag Out system) without physical contact with the hazardous material.
1.5kW motor for continuous use(24/7).
Low noise.
Absolute filtration.
Vacuum meter monitors vacuum performance.
25L removable container.
Stainless steel version.
Toxic dusts versions.
Atex version.
GMP conformity for pharmaceutical, food and chemical applications.

CFM North East Ltd. do not own the rights to this video
Accessories for Food and Pharma


Call us now on 01845 565 300
or 01677 426 699