Nilfisk VHO 200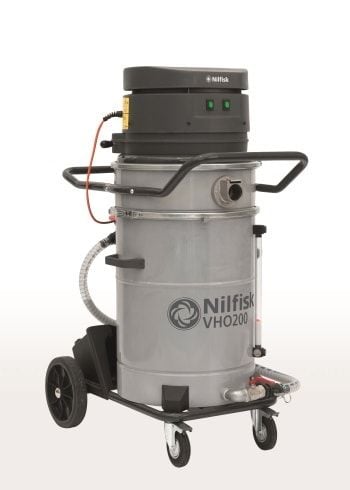 Model VHO 200 is a powerful vacuum for liquids, with a diverting valve for an easy and fast container discharge. A metal basket for the metal chips recovery, as well as different kinds of nylon filters. Allowing the user to have different levels of filtration to re-use the sucked materials (both liquids and solids).
The container emptying is performed manually by a ball valve or by differential pressure with a discharge accessories kit. By simply moving a lever the VHO200 is able to blow and discharge the liquids previously sucked. 2,4 kW (3,2 HP) power rating obtained with two single-phase by-pass motors placed within a dark grey solid polypropylene cover and connected to the container by a self- centering metal band. Once the metal band is released the motor-head is free to be tilted.
In order to protect the motor-head the VHO 200 safety measures are very high; both a visual cut-off system and a float shut-off system are fitted in the vacuum as well as a double filter pad and an absorbent pad are always present. Oil mist can be filtered as well, by a dedicated filter positioned under the motor-head. The exhaust on the bottom of the container allows to drain out all the liquids avoiding few liters remaining after the emptying. The container is easily removable to be cleaned-up. Dedicated accessory kits for different sectors are also available.
High tank capacity/dimensions ratio
Solid and slim design
Hinged motor-head
Well protected motor-head from liquids seepage
Wide range of filtration options
Very quiet
Versatile: suitable for different sectors
Diverting valve for an easy and fast liquids discharge
Stainless steel version available
Specific filter for oil-mist available