Rider 1201 Ride On Sweeper

The Eureka Rider 1201 ride on sweeper is a combination of technology and ideas which will enable users to keep large areas clean, by working in total comfort, quickly and at low costs.
The wide sweeping path (1200mm with 2 side brushes) combined with the fast operational speed assures a large cleaning capacity, up to 10140 m2/hr.
Available Versions:
Eureka Rider 1201S sweeper (with Honda petrol engine)
Optional Accessories
On board 24v vacuum cleaner, split refuse boxes (for easy emptying), left side brush kit, catalytic converter, reverse beeper, additional bumper, class M filter, carpet cleaning kit, hourmeter
Suitable Cleaning Surfaces
Ceramics, marble, cement/concrete, linoleum, non-slip surfaces, porcelain tiling, and many other dirty conditions.
Fields of Application
Industrial sites, communities and vicinities, schools, offices, religious buildings, hospitals, public buildings, airports, ports,shopping malls, logistical depots, cleaning companies, and multi services.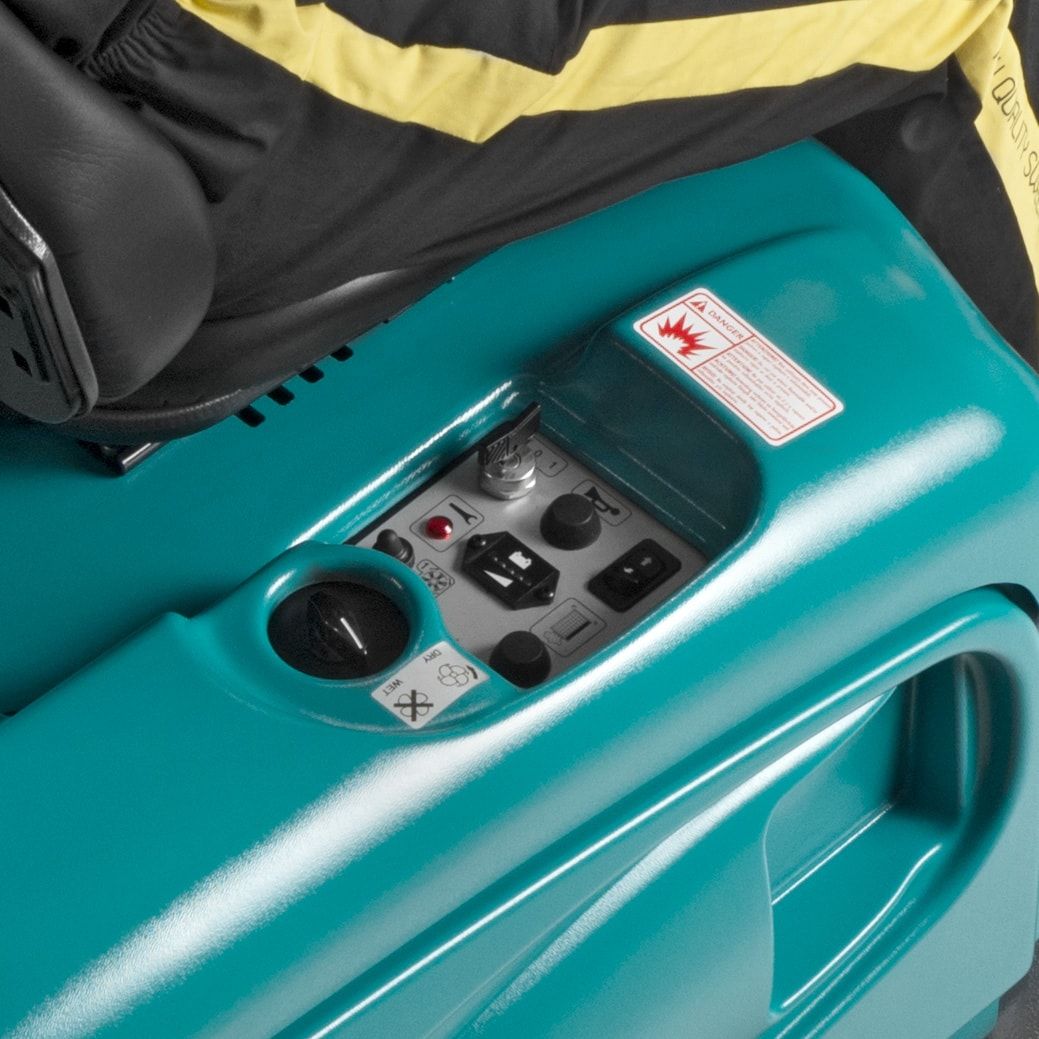 ERGONOMIC INTUITIVE CONTROLS
All controls are simple and ergonomically located for easy operation. One single pedal controls forward and reverse speed; the levers to lower or raise the main and side brushes are located on the dashboard, as well as the filter-shaker control and the vacuum cut-off device, which can be engaged when sweeping on wet areas.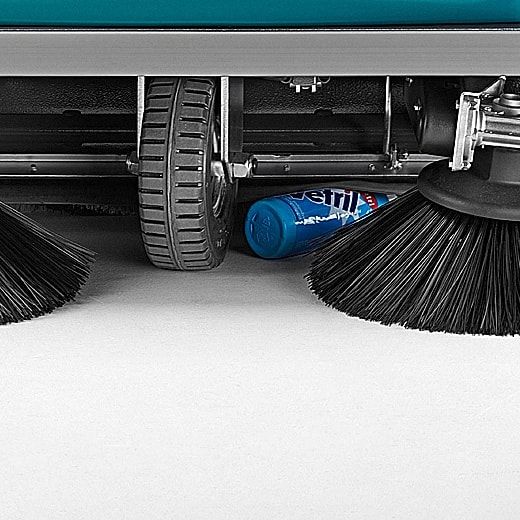 FRONT FLAP RAISING DEVICE
A lifting flap is installed in front of the brush and easily opened from the driver's seat. It allows the broom to pick up even bulkier debris.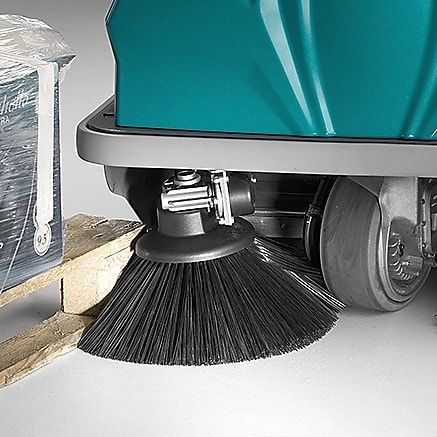 SIDE BRUSHES
The retractable, anti-shock side brushes (AMSD system - a Eureka patent) enable the Rider 1201 to sweep effectively in confined areas.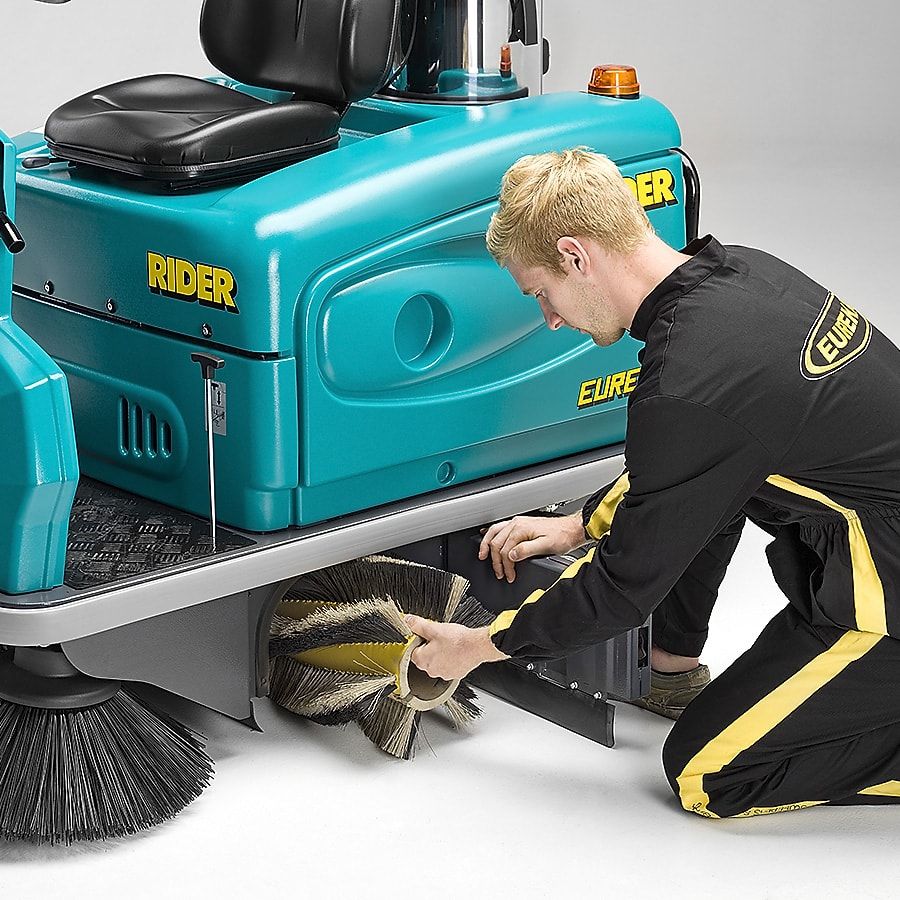 MAIN BRUSH SERVICING EFFICIENCY
The floating, self-levelling main brush can be quickly adjusted or replaced without need of tools, and the retractable, anti-shock side brushes allow maximum cleaning efficiency on rough or uneven floors. The MultiBristle main brush, which has a width of 70 cm, includes a fine bristle section for fine dust, and a heavy bristle section for larger debris.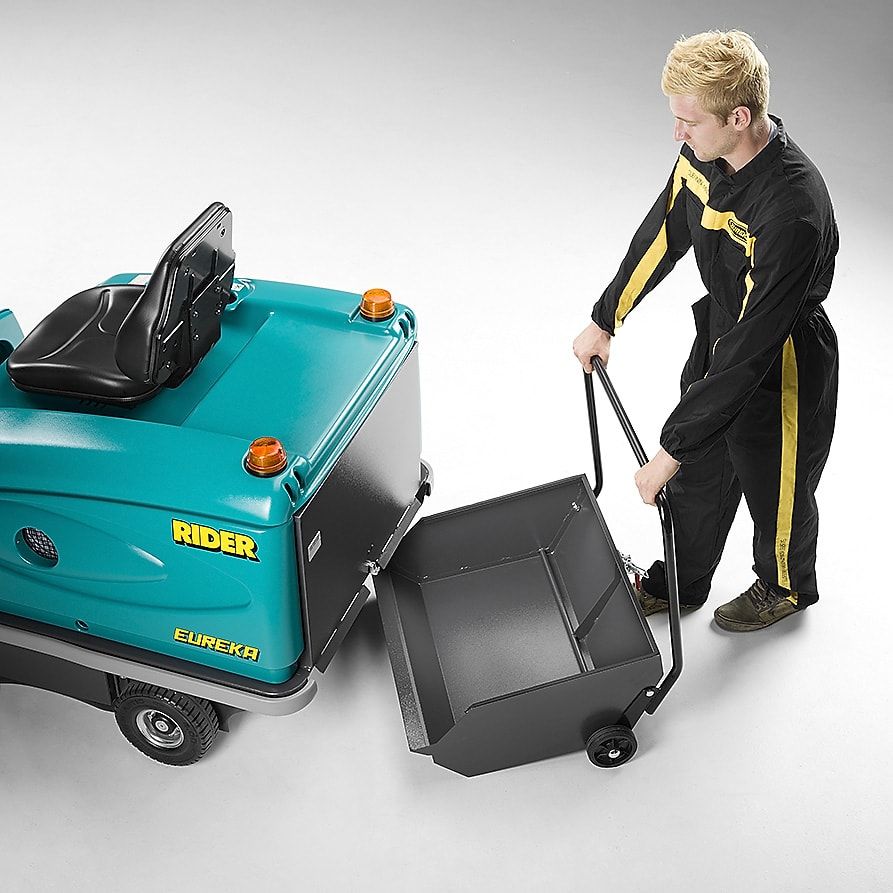 85 LITRE DEBRIS CONTAINER
The large, high-capacity (85 liters) debris container reduces down-time, increasing overall productivity, as the Rider 1201 can run for long periods without needing to be emptied. It is equipped with wheels and has a convenient transport handle that allows the entire hopper to be rolled to the emptying site.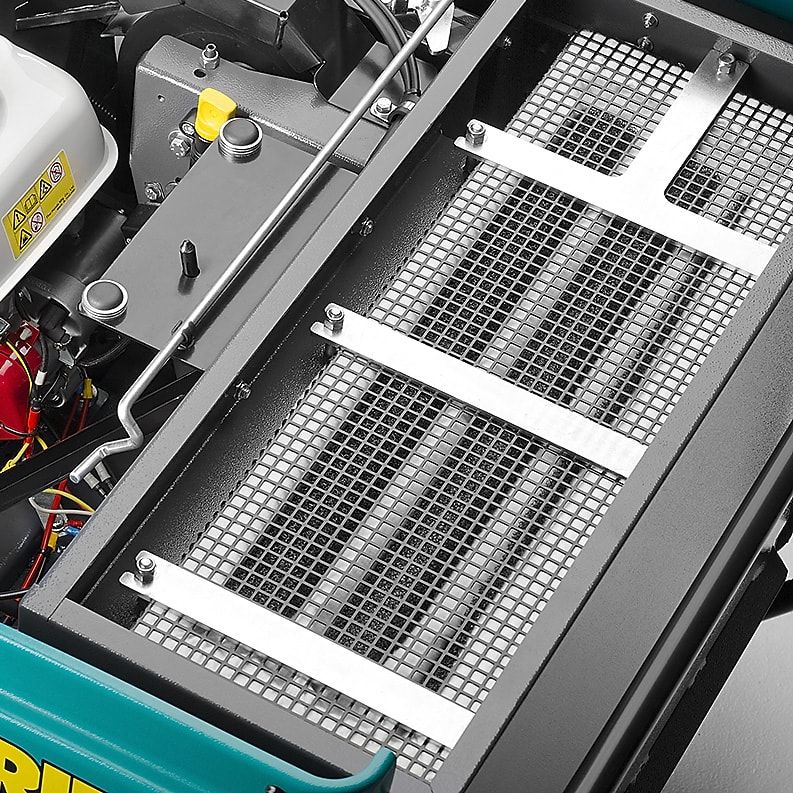 FILTERATION SYSTEM
The Rider 1201 is equipped with an a polyester bag filter which is particularly efficient at retaining of fine dust, it is anti-static and washable, and has a much longer lasting life than other traditional ones. Operators are never exposed to dust while cleaning the filters.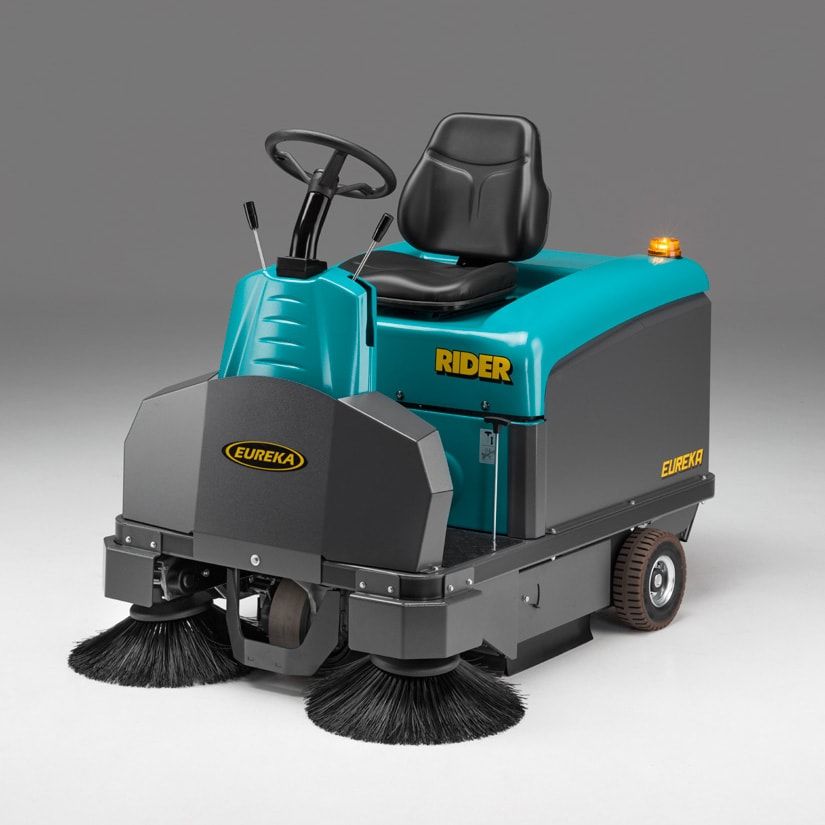 TOTAL STEEL LINE
A strong steel casing protects the machine body, while special reinforcements safeguard the side brushes.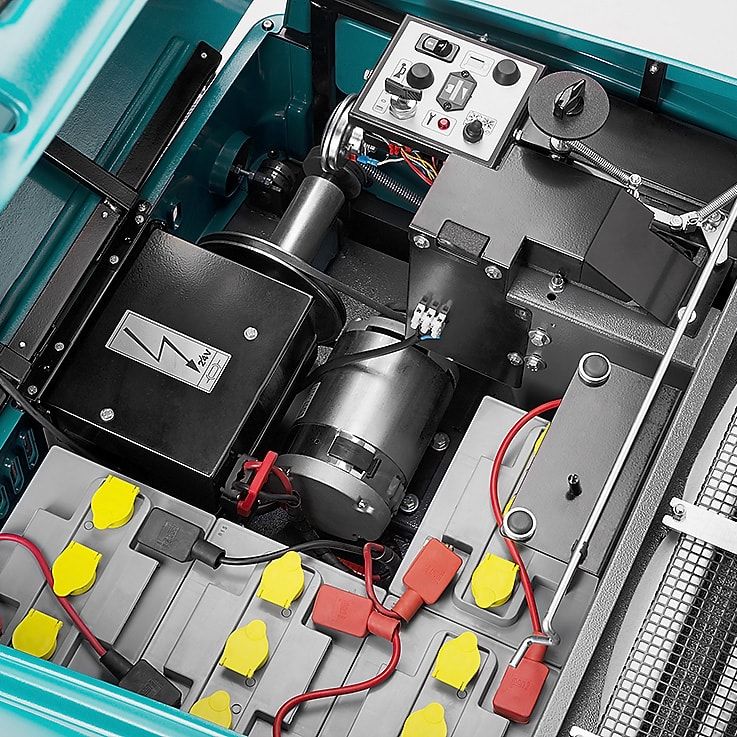 LONGER RUNNING TIME
The battery operated version ensures a superior running time, for extra productivity. Maintenance access is convenient, the top lifts up to expose the engine, battery compartment, motors and other service areas.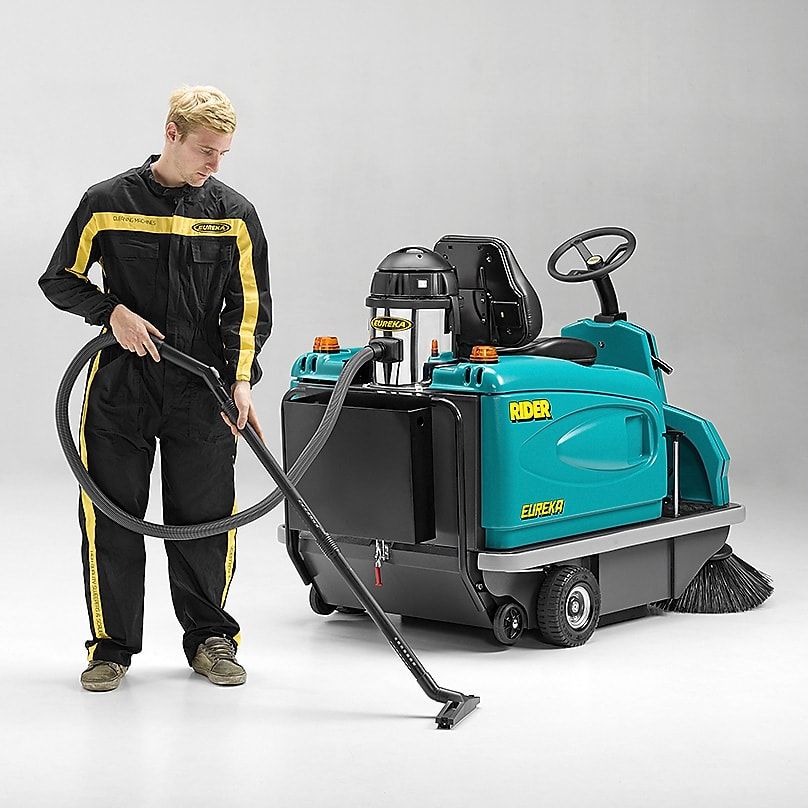 ON-BOARD VACUUM CLEANER
The optional, on-board vacuum cleaner, enables the cleaning of ledges and other areas inaccessible to the main machine.
Call us now on 01845 565 300
or 01677 426 699