Magnum Ride On Sweeper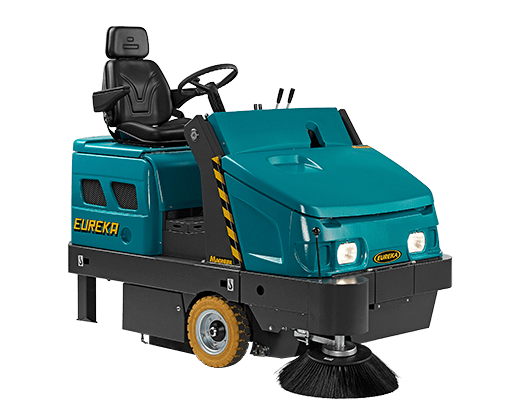 The Eureka Magnum is a high dump sweeper designed and manufactured to sweep medium to large floor areas.
The Magnum has a main brush width of 902 mm, a total sweeping path of 1250 mm and a cleaning capacity, at full speed, of 12.500 sq\mt\h.
The hopper, located in front of the machine, can be hydraulically raised up to 1540 mm from the floor, and has a volume capacity of 200 litres.
The structure is particularly strong to allow the machine to perform in industrial areas, while particular attention has been given to the external finish to give a very aesthetically pleasing appearance.
As a result of an accurate analysis of the current sweeper market, Eureka's major aim was to design a tough machine that could be sold at an affordable price, with low operational costs. Therefore, all specifications have been carefully planned in order to satisfy our goal as well as some of the most relevant customers needs.
Available Versions:
MAGNUM HDK with water cooled, three cylinder Kubota diesel engine
MAGNUM LPG with dual LPG/petrol drive
MAGNUM EB EVOLUTION battery driven, 36 V
Fields of Application
Industrial sites, communities and vicinities, schools, offices, religious buildings, hospitals, public buildings, airports, ports, shopping malls, logistical depots, cleaning companies, and multi services.
Suitable Cleaning Surfaces
Ceramics, marble, cement/concrete, linoleum, non-slip surfaces, porcelain tiling, and many other dirty conditions.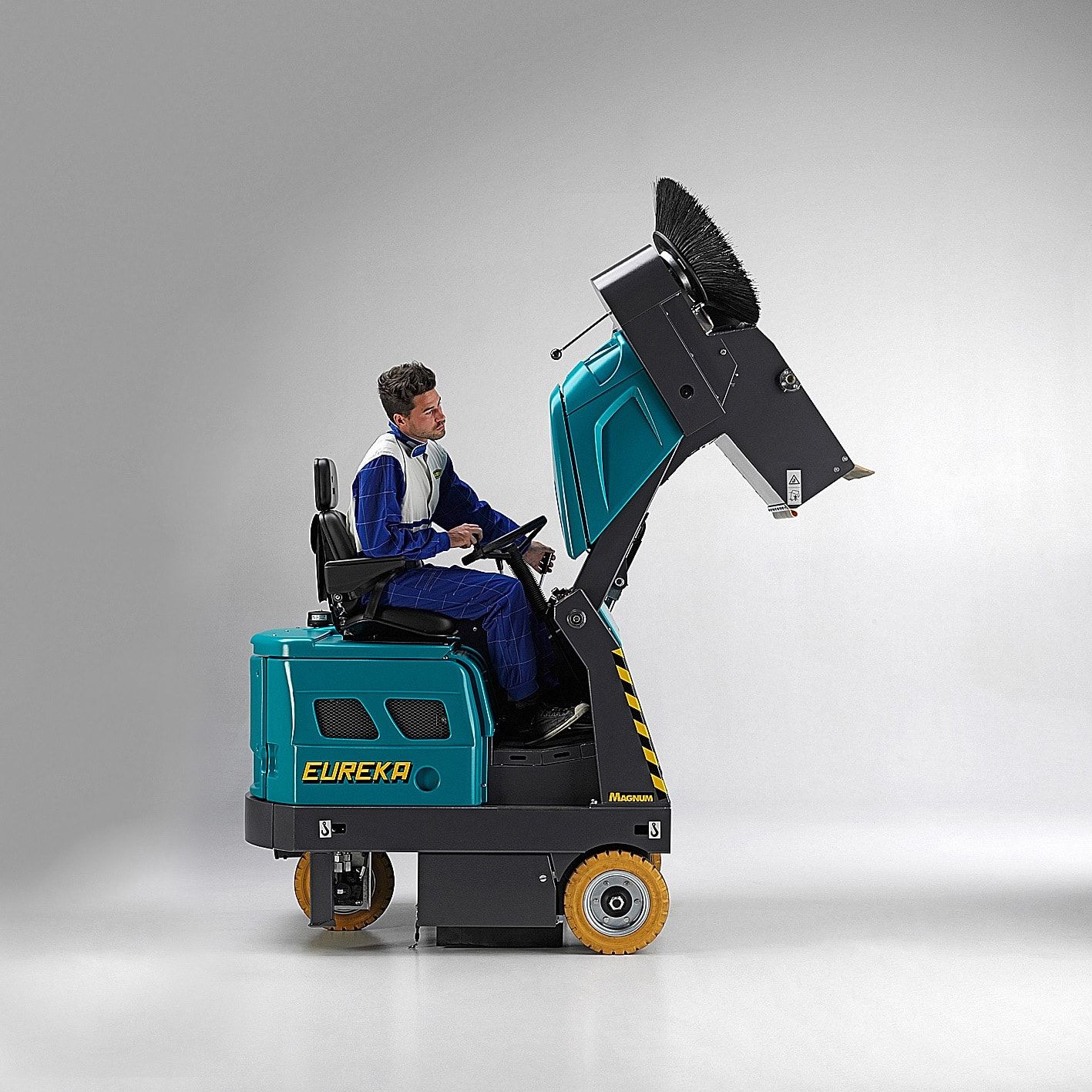 HYDRAULIC DUMPING SYSTEM
The Multi-level dumping system ensures easy emptying. The hopper, located at the front of the machine, can be hydraulically raised up to 1.54 m. The hopper is actually floating on the floor, and automatically adjusts to allow for easy pick up of larger waste.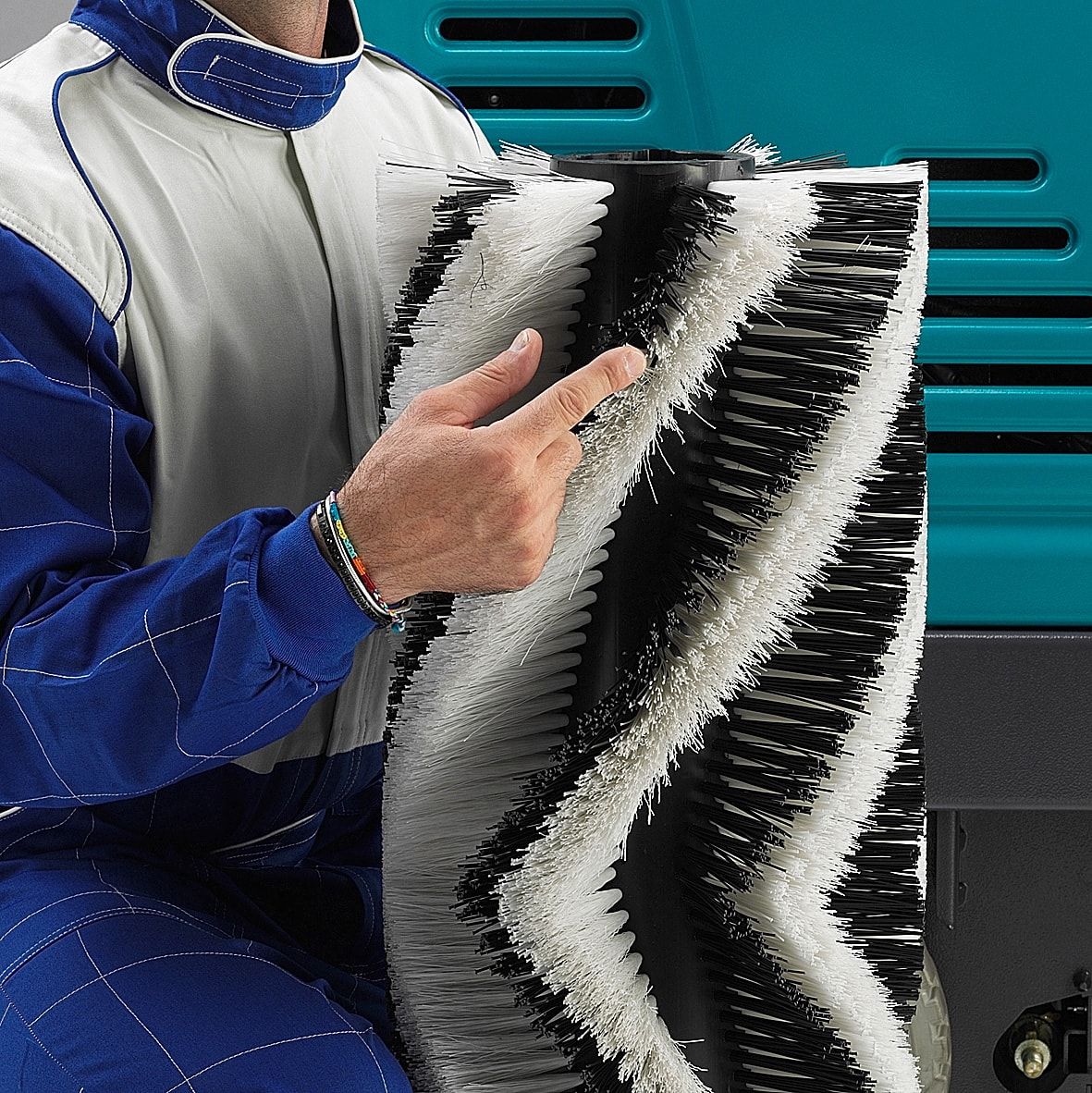 AUTOMATICALLY ADJUSTABLE MAIN BRUSH
The floating main brush floats automatically adjusts itself to uneven floors and wear. Additionally, the exclusive "Multi Bristle ®" system enables the main brush to achieve exceptional performances in all conditions.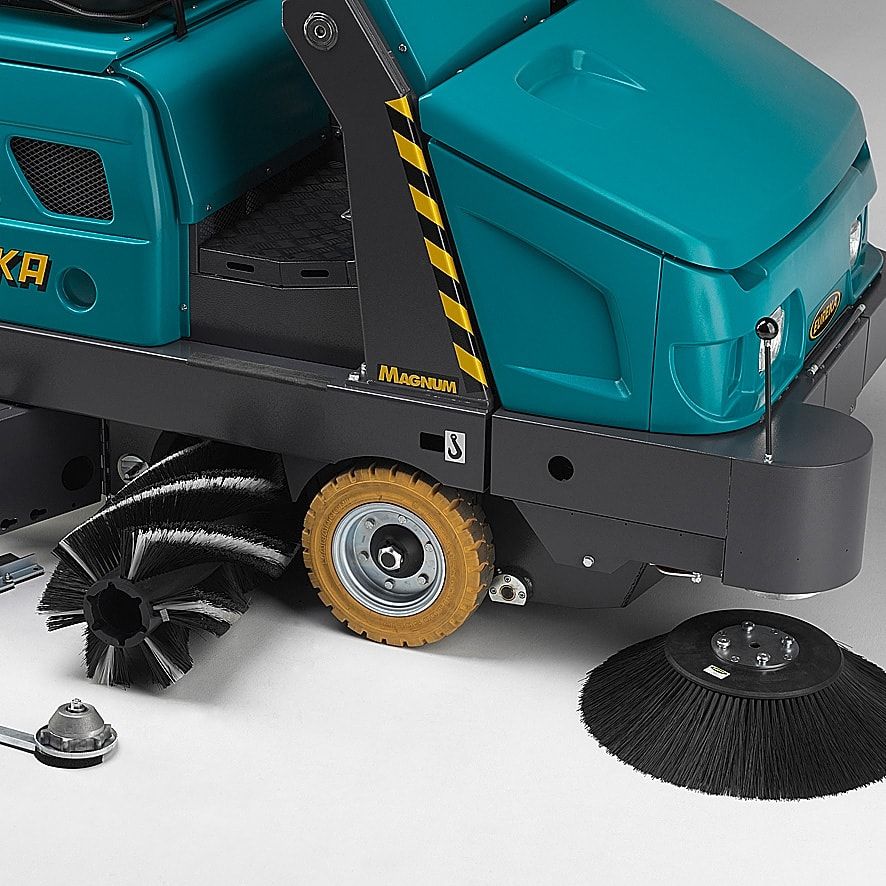 MAIN BRUSH
The main brush can be replaced in a few seconds, without tools.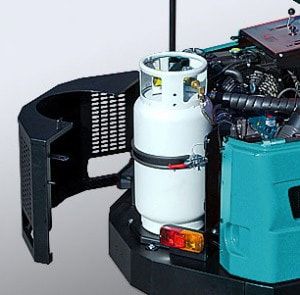 LPG-PETROL VERSION
The petrol version is also adapted for use with LPG. It is therefore possible to work in both indoor and outdoor environments with the same machine.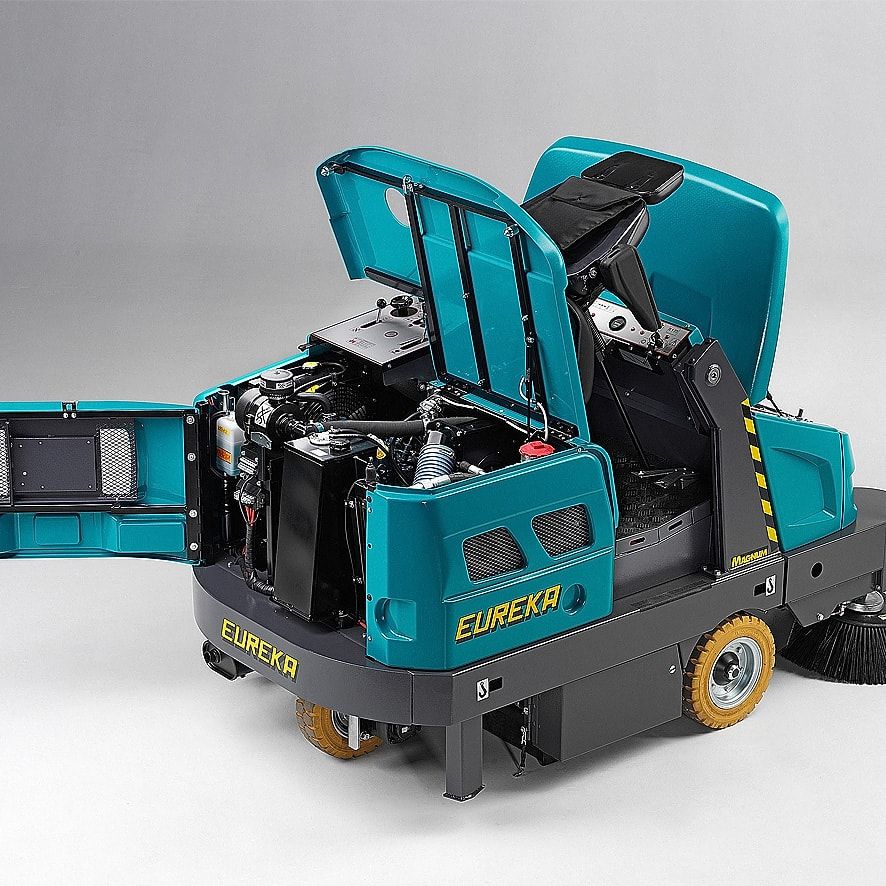 EASY ACCESS
All parts, motors and engines are easily accessible for servicing as side, upper and rear panels can be fully opened. Batteries (EB version) can be replaced easily and quickly thanks to a battery trolley mounted on rolling bearings. This slides out for ease of use.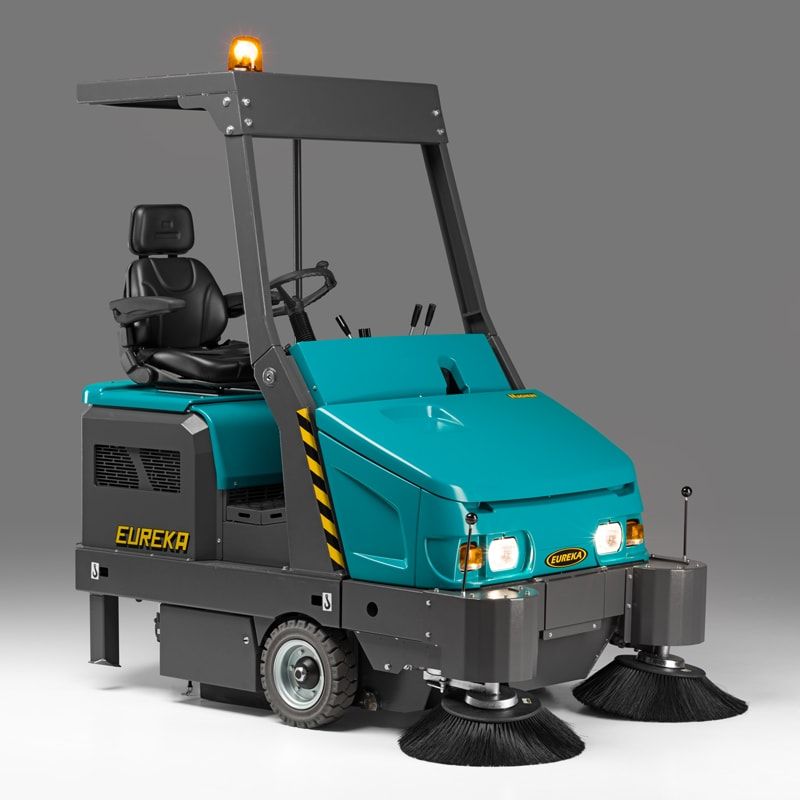 TOTAL STEEL LINE
Eureka's robust Total Steel line of sweepers comprises of heavy-duty machines fully reinforced for maximum impact resistance. The result is a sweeper built to perform in the harshest industrial conditions and to endure intense usage.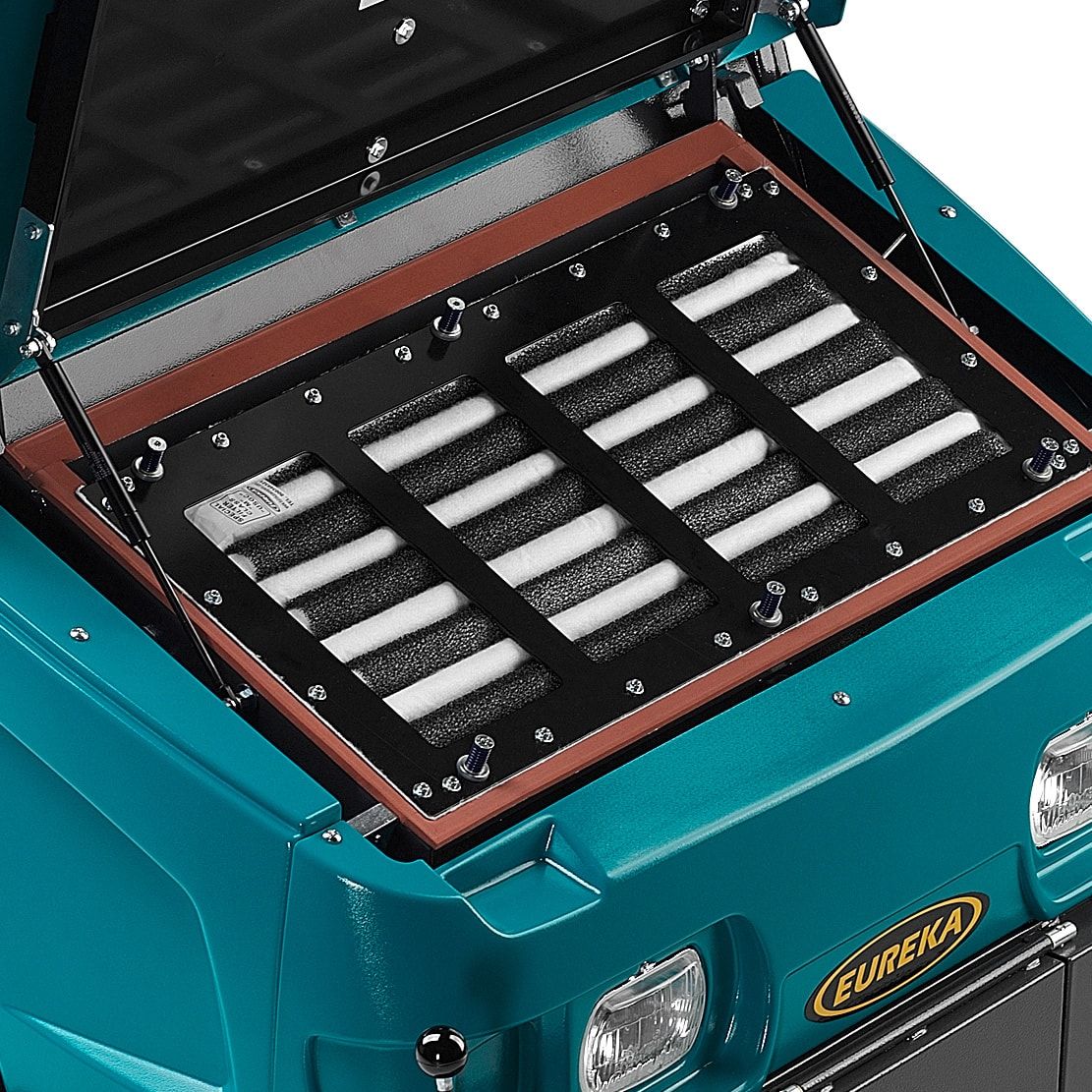 FILTERATION SYSTEM
The Magnum is equipped as standard with a polyester bag filter, class L, which is particularly efficient at retaining fine dust, and has a much longer life than all other traditional filters.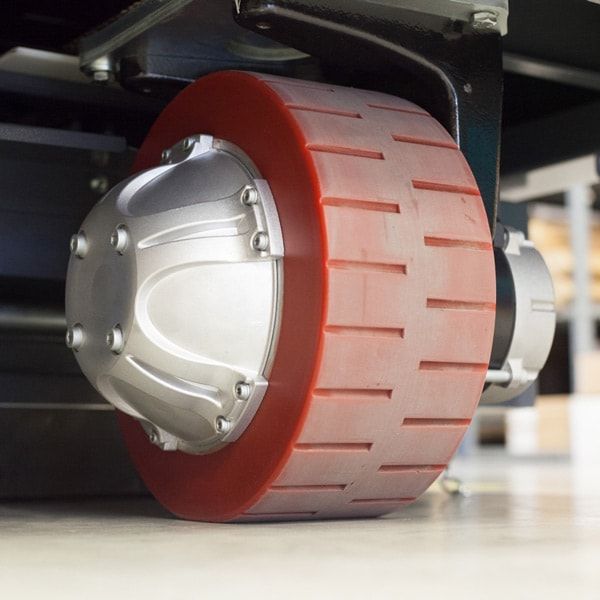 EB EVOLUTION VERSION
The new electric motor delivers 4 hours of working time with minimal noise impact.
Call us now on 01845 565 300
or 01677 426 699