The Victor Europa V Series Buffer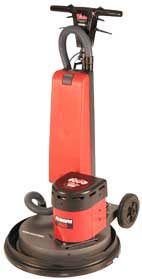 Based on the successful Europa model, the V-series offers a built in vacuum attachment to remove any dust created through polishing or spray cleaning the floor.
Available with the option to be fitted with HEPA filtration, for the improved cleaning and protection of operators and users.
Remove the vac unit and take advantage of a robust multi purpose machine capable of high performance spray cleaning or, with the addition of a tank and a splash skirt, efficient scrubbing or stripping of floors.
Available in 2 sizes, 15" and 17", the vacuum unit provides powerful dust removal and 400 rpm gives superb polishing capability.
Whilst easy to use, the Europa weighs in at a 43 kg, giving excellent mark removal capability.